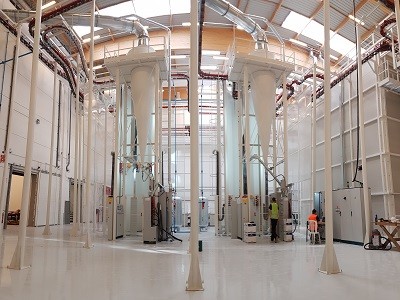 ENGLISH
We are glad to recall the article of the French Magazine Le Moniteur related to the great results achieved by our customer K-Line/Groupe Liebot.
The French leader in aluminium carpentry registered a growth of 13% compared to the 2016, particularly in the renovation sector. To support this increase, the company strengthened its territorial network in the east of France with the creation of a new factory in Saint-Vulbas (Ain) with a production capacity of more than 2.500 windows per week.
In particular, SAT is proud to have supplied the French firm a New Vertical Powder Coating Line with 2 CUBE Powder Coating Booths and curing oven equipped with Revolving Doors for its productive unit in Saint-Vulbas that will be inaugurated tomorrow, Thursday 24th May.
To satisfy the needs of the K-Line/Groupe Liebot, we have provided a new concept of "V" shape fast cleaning Powder Coating Booth with a high powder-transfer-efficiency.
This model of booth allows to improve the powder penetration, the coating thickness uniformity, the physical quality of the coating layer consisting mainly in fresh powder; to optimize the distribution of powder on all the sides of the profiles and finally to reduce dramatically the consumption of powder.
The booths are equipped with 1 GEMA Powder Center OC02 with 20 automatic guns GA-03.
Then, we foresee Polypropylene tanks and PVC walls for the pre-treatment tunnel to ensure the best conditions to work with chemical products and to grant durability, resistance against corrosion and thermal insulation.
Moreover, we implemented our offer by equipping our Vertical Line with a Curing Oven with Revolving Doors system. This new development allows the profile to enter and exit the oven while it is kept constantly closed.
Due to this expedient, the customer can reach a drastic reduction of the energy consumption of the whole system and a final product quality improvement.
FRANÇAIS
Nous sommes heureux de mentionner l'article du Le Moniteur relatif aux excellents résultats obtenus par notre client K-Line / Groupe Liebot.
Le leader français de la menuiserie en aluminium a enregistré une croissance de 13% par rapport à 2016, notamment dans le secteur de la rénovation. Pour soutenir cette progression, la société a renforcé son réseau territorial dans l'est de la France avec la création d'une nouvelle usine à Saint-Vulbas (Ain) d'une capacité de production de plus de 2.500 fenêtres par semaine.
En particulier, SAT est fière d'avoir fourni à l'entreprise française une nouvelle ligne de laquage en poudre verticale avec 2 cabines de poudrage CUBE et un four de séchage équipé avec des portes tournantes pour son unité de production à Saint-Vulbas qui sera inaugurée demain jeudi 24 mai.
Pour satisfaire les besoins du K-Line / Groupe Liebot, nous avons fourni un nouveau concept de cabine de poudrage à nettoyage rapide en forme de «V» avec une efficacité de transfert de poudre élevée.
Ce modèle de cabine permet d'améliorer la pénétration de la poudre, l'uniformité de l'épaisseur du laquage, la qualité physique de la couche de laquage constituée principalement de poudre fraîche; d'optimiser la répartition de la poudre sur tous les côtés des profilés et enfin de réduire considérablement la consommation de poudre.
Les cabines de poudrage sont équipées de 1 GEMA Poudre Center OC02 de dernière génération avec 20 pistoles GA-03.
Ensuite, nous avons prévu des cuves en Polypropylène et des parois en PVC pour le tunnel de prétraitement afin d'assurer les meilleures conditions de travail avec les produits chimiques et d'assurer la durabilité, la résistance à la corrosion et l'isolation thermique.
De plus, nous avons équipé notre ligne verticale avec un four de cuisson avec des portes tournantes. Ce nouveau développement permet au profil d'entrer et sortir du four même si ce dernier est gardé constamment fermé.
En raison de cet expédient, le client peut atteindre une réduction drastique de la consommation d'énergie de l'ensemble du système et une amélioration de la qualité du produit final.